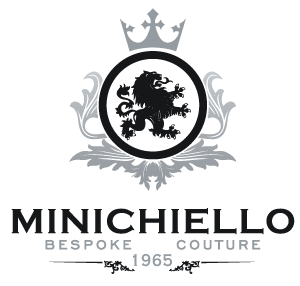 About
The Minichiello fine-tailoring legacy began in Campobasso, a city in Southern Italy renowned for its custom garment artistry. At age six, Paul Minichiello started his apprenticeship with a Campobasso master tailor, and by age 12 he presented his father with a bespoke three-piece suit. Paul Minichiello arrived in Vancouver in 1954, and the flamboyant young master tailor opened Minichiello Tailors in 1965. Fifty years later, this legacy of impeccable bespoke tailoring can still be seen in every custom garment that bears the Minichiello name.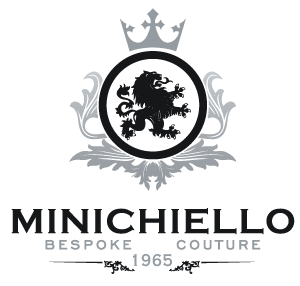 Minichiello has been a top custom clothier in Vancouver since opening its doors in 1965.
The Minichiello story starts in the famous tailoring town Campobasso, in Southern Italy, where at age 12 Paul Minichiello presented his father with a bespoke suit that he had designed and crafted by hand.
It was a special gift to mark his father's 1952 Atlantic crossing in search of a new life in Vancouver. In 1954, Paul Minichiello, now a master tailor, boarded a ship in Naples, Italy to join his father in Canada. The young tailor arrived with impressive credentials and quickly landed a job at Tip Top Tailors. He went on to work for Billy Tothery and Louis Roth.
By 1965 he opened his own shop at the corner of 14th Street and Lonsdale Avenue in North Vancouver.
The late 1960s presented a perfect opportunity, for the young, colourful and creative designer. From the start, the fluid style of Paul Minichiello stood out in the Vancouver fashion scene.
Word spread, and soon Paul developed an all-star clientele that included sports stars, musicians and entertainers. Vancouver Canucks such as Pat Quinn, Harold Snepts, Dennis Ververgaert, Jerry Korab (who was picked as the best-dressed player in the NHL for five years in a row) chose to be dressed by this fine-tailoring institution. The house also enjoyed a long association with many other luminaries including, Al Wilson, Sonny Homer, Karl Weathers, Sonny and Cher, Jack Wassermann, Leslie Nielson – to name a few.
Paul retired in 2011 and handed the reigns of the renowned Minichiello institution to his daughter, Julie Galati Minichiello. Like her father, Julie developed a passion for the business from a young age.
Her earliest memories are the whirr of sewing machines and the bustle of tailors and fittings. Her creative design, flair and leadership have allowed this bespoke tailoring and couture institution to continue to thrive and attract clients who seek true craftsmanship. "The Minichiello name has been attached to the finest bespoke tailoring for 50 years. Every item that bears our name is designed cut and sewn in our workrooms by our team of expert cutters and tailors. All of us work with knowledge and pride in the long legacy that we are now a part of," she says.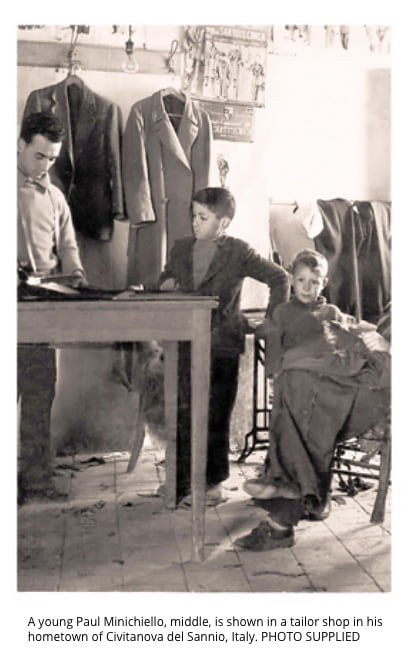 Our team of European-trained tailors is led by Julie Galati Minichiello, Paul's daughter.

Paul was trained in the art of bespoke tailoring by old masters in Italy and opened his own shop, Paul's Tailors, in 1965 after immigrating to Canada. Over the years, his business name changed from Minichiello's Menswear to Paul's of North Shore, but the mastery has remained constant.
Julie learned the business of tailoring at the knee of her father, one of Vancouver's finest master tailors. 
"As a young girl, I remember the whirr of sewing machines and my father's passion for custom design" she says.
In 1991, Julie joined this North Shore tailoring institution full-time. "Measuring," she explains, "is one of the most important elements in custom and bespoke suits and shirts. A garment must fit perfectly. With the design, we have to take into account all sizes and postures. The aim is that no matter what the shape or body size, the garment must be flattering and comfortable."
Aware of her passion, another old master tailor chose to pass along his trade secrets to Julie. In 2008, she spent time with him, learning his personalized techniques. Like all great arts, we are all richer when the secrets of the old masters are passed from one generation to the next. The ways of two great masters have been passed on to Julie to carry on the tradition of exquisite, custom garment tailoring.
101-118 2nd Street E,
North Vancouver, BC, V7L 1C3
info@minichiello.ca